F7 EFI Power Up Kit
P/N 07-200 F7 EFI Power Up Kit
(Also Fits CrossFire)
This one is a no brainer, your getting two kits in one.
First we supply you with a billet "High Flo" air horn to replaces that volume restrictive stock part. Next we include a EFI lean down kit that takes care of that over rich stock program. No fancy gauges or hose cutting here, except for the increase in power and the decrease in fuel consumption, this kit is almost undetectable. You'll have your buddies scratching their heads trying to figure out what you did.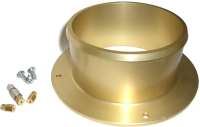 How It Works
Simply remove your stock air horn and replace it with Lencco "High Flo" Horn included in the kit. Next remove your fuel supply line from the fuel rail, select one of the three supplied jets. Next install the Lencco fuel reducer into the fuel rail. Reinstall your fuel supply line and let her rip. Its that simple. Kit uses std mikuni hex jets.
1303 Manitou Rd.
Hilton, NY 14468
Phone:
1-585-392-9010
Fax:
1-585-392-4270
Business Hours:
Eastern Time
9-5 Mon,Tue,Wed,Fri
9-6 Thur
9-2 Sat
Most items ship out within one to two business days.
Save 10% on Orders of $100.00 or more Online!